Griffin Elkington, Broker/Owner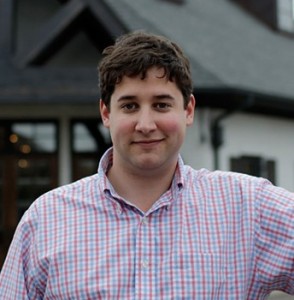 Griffin's real estate sales experience includes all types of residential and investment properties. He is a licensed Contractor in the State of Tennessee and has experience with renovation as well as new construction and infill development. He is a life long Memphian and graduate of Christian Brothers High School and the University of Tennessee at Knoxville. In 2011, he earned his Graduate REALTOR Institute certification from the Tennessee Association of REALTORS & National Association of REALTORS. In 2015 he was recognized as a Life Member of the Multi Million Dollar Club by the Memphis Area Association of REALTORS. He has served on MAAR's MLS/Technology committee, Fair Housing Committee and has served on the board of Memphis Heritage.
David Steinberg
David Steinberg is a life long Memphian who is a 1983 graduate of Christian Brothers High School. David went on to study at the University of Tennessee at Knoxville and the University of Memphis. After school, David worked in the restaurant business for 25 years, the latter part working at Memphis' institution, Garibaldi's Pizza and Catering. In 2005, David joined the surging real estate investment community. Two years into buying and selling over 100 homes, David obtained his TN real estate license. David not only has a strong understanding of the foreclosure and investment property markets, but he also specializes in helping first time home buyers find and purchase their dream home. Give David a call for all your real estate needs!
Morgan Tate, ABR
Morgan obtained his TN real estate license four years ago and worked with Prudential Collins-Maury. While with Prudential, he focused primarily on residential and investment sales. Since coming on board with River City Land Co, Morgan primarily focuses on new home sales as well as investment sales. He has recently attained his Accredited Buyer Representative accreditation. He thoroughly enjoys working with buyers throughout Shelby County, especially first time home buyers. Morgan is an active member of the Memphis Area Association of Realtors, and previously served on the Community Involvement Committee as well as the Realtor Political Action Committee. Morgan is a lifelong Memphian and a 2000 graduate from Christian Brothers High School. He then made his way to Knoxville and graduated from University of Tennessee with a B.A. in English and a minor in Business in 2004. He is an active member of the C.B.H.S and St. Dominic alumni associations.
Brian Green
Brian began his career in real estate in 2008 at the young age of 23 years old. After graduating from the University of Tennessee in 2007 with a Bachelors Degree in Communications, Brian took an odds and ends job with a construction company that specialized in renovating foreclosed homes and various other distressed homes for real estate investors. From there, he progressed into a property manager and tenant placer for several investor groups in the area. Now, as a full time Realtor, Brian is able to use his expansive knowledge and vast experience in the burgeoning real estate investing market to acquire the very best bargains in the city for investors nation wide. Whether it is a "fix and flip", buy and hold, or simply a buyer seeking to get the absolute best deal they can for their primary residence, Brian's unique skill set makes him a tremendous asset for any property buyer
Jamie Green
Jamie joined the River City team in 2011. She has experience with all types of residential sales including representing Buyers and Sellers of both investment property as well as finding someone's personal residence.
Johnny Williams
Johnny joined River City Land Co. in 2010, he is recognized for his custom home building abilities and now branched into the real estate sales side of the business. He has been in the constuction business for over 25 years and won the People's Choice award in the 2010 Vesta Home show.
Justin Reed
Justin joined River City Land Co. in 2014. He is an honor graduate from The University of Tennessee at Martin with a bachelor's degree in Business Administration with a focus in Finance. With a background in finance, Justin will assist you and your family to find the perfect property for your needs! Recently married to his college sweetheart, Justin is excited to begin assisting couples in finding their first home or working with first-time homebuyers.
Cooper Turner
Cooper is a lifelong Memphian with over 20 years of residential real estate experience. He attended Christian Brothers High School and Central High School before attending the University of Tennessee, Knoxville. Upon graduation in 1993, Cooper then began his career as a real estate appraiser. While continuing to work as an appraiser, he graduated from the University of Memphis Law School and passed the Tennessee Bar exam in 2000. After completing law school, Cooper opened his own real estate appraisal firm and, in 2003, obtained his real estate license. Cooper began to buy investment homes for himself and represented clients in the purchasing and selling of their homes, as well. Additionally, Cooper partnered with several excellent local contractors to build numerous high quality, infill homes throughout the East Memphis market. He led his previous 65 agent real estate firm in annual sales for multiple years before moving his license to River City Land Company. Cooper has represented clients from downtown to Collierville, and worked with a diverse client base to include both first-time home buyers and seasoned homeowners looking to find a high-quality home where they can live for years to come. Feel free to contact Cooper at 901.210.4708.
Betsy Tate
Betsy Tate joined River City in 2014 as an affiliate broker after retiring from Shelby County Government, following a long career in social services. She has a Master's degree in counseling. In addition, she manages her family farm near Mason, TN, that has been in her family for 5 generations. She is married to Jet Tate, a retired Realtor and Appraiser.